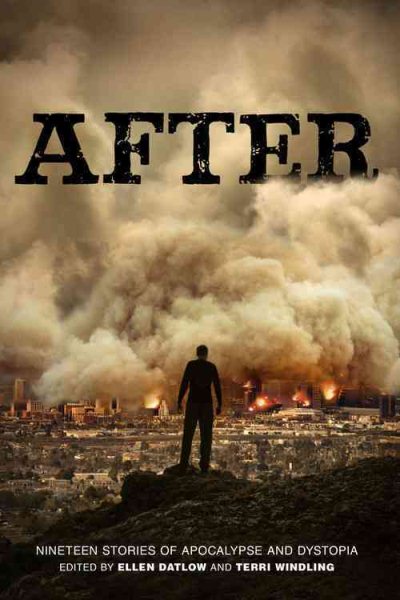 Even after the smoke clears, technology fails, science runs amuck, society as we know it collapses and the power-drunk take over, there is still a glimmer of hope for mankind. After: Nineteen Stories of Apocalypse and Dystopia presents tales that take place after of the end of the world as we knew it. Editors Ellen Datlow and Terri Windling commissioned work from some of the most popular and critically acclaimed authors for young adults. The resulting stories are both disturbing and thought-provoking, leaving readers pondering the what-ifs.
Carrie Ryan explores the zombie territory that made her name as a writer in "After the Cure," where the teen protagonist has been "rehabilitated" from her former life as a member of a pack of the bloodthirsty undead. The zombie plague began as a diet drug gone wrong; the girl's secret--her taste for flesh has merely been sublimated. Science again spins out of control in "Fake Plastic Trees" by fantasy author Caitín R. Kiernan, where a replicating "goo" intended to provide food for an ever-expanding population goes rogue. The nano-assemblers creating the substance begin rapidly transforming "just about anything" into plastic. Narrator Cody tells her story after The Event, but the threat of mutating strains of nanos persists.
Echoes of Nazi and Khmer Rouge soldiers brutalizing families under a dictator's orders make Susan Beth Pfeffer's "Reunion" one of the most chilling stories of the lot. Set entirely in an office where the walls and even the lone window have been painted a dull brown, the leader of a totalitarian government in a nameless location has fallen. Isabella's mother seeks her oldest daughter, who had been taken away years ago by soldiers and given to a childless colonel and his wife. How will they know for certain which of the brainwashed young women is really Maria?
An afterword by the editors chronicles a brief history of teen interest in the dystopian genre, which has its roots in often-assigned adult classics written by authors such as H.G. Wells, Aldous Huxley, Ray Bradbury and William Golding. The stories of After make worthy thematic companions.